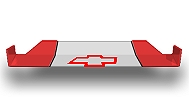 I am often asked how the Big Mouth idea was born. Having spent my career in an engineering environment, I began looking for ways to achieve improvements for my own C4 Corvette. We started with the Air induction into the engine compartment. Keeping in mind looks and functionality. With many different prototypes in hand the Big Mouth was finally birthed. The water temp. decrease produced by that first prototype design was significant enough to warrant further testing, if only to see what was happening. To our great pleasure, this testing revealed a large increase of directed air flow to the radiator.

We took the time to refine that original design into a heavily constructed, light weight formed aluminum air dam which is easily installed. The design is very unobtrusive, presenting only a 2 inch visible profile at an angle of only 15°. This low profile design allows you to dress things up with a custom look, or to dress the appearance down so that it disappears almost completely from sight, depending your personal tastes.
We at oBs Enterprises are proud to introduce the " The Big Mouth Perfomance Air Dam " for C4 and C5 class Corvette owners. It's a very dynamic and highly functional product. We are a small company dedicated to designing quality products that not only adds style, attitude, and increased functionality. We only use the optimum in quality materials for specific applications and then we rigorously test our products to assure proper functionality at the highest level of quality. Each Big Mouth Performance Air Dam is proudly made in U.S.A. and we back them with up with personalized technical support, should you need us.

Our web site offers you our basic colors and free stock decal combinations. We can also offer you customized versions to match your C4 Corvette, however we ask that you contact us to discuss your particular needs so that we can best address them to your full satisfaction.
We invite you to visit our web site often, as there are other C4 series Corvette products which we will be introducing in the future.
approved Dealers/ Install locations
Eric